Shopping cart
Price:
16.94 € (VAT included)
View Cart
Original remote control SAMSUNG RMCSPK1AP1 for Televisions
RMCSPK1AP1 original remote control
Description
original remote control RMCSPK1AP1 used for televisions for the brand Samsung. This is an original remote control.
Brand
Brand:
Samsung

The remote control is carefully shipped protected in a special packaging along with the necessary batteries (if requested). The shipment is fast and secure, ensuring that it arrives at your hands within the indicated delivery time. Additionally, you will receive the convenience of having your invoice sent directly to your email. Your shopping experience will be impeccable from the very beginning!
Mandis Shop in the world
We are in more than 20 countries and we ship worldwide.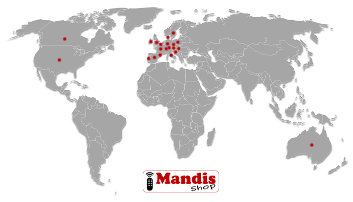 Questions on remote Samsung RMCSPK1AP1
Payment methods
We have several possible methods of payment
Read more
Shipping and delivery
When your order is completed successfully, we will send you the products as soon as possible
Read more